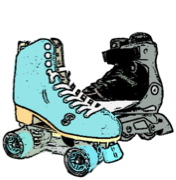 Skate
Instruction
Providing inline & roller skating classes + community events in Washington DC.
Get Skating

Sign up for a private skate instruction session.
Notes
Classes focus on safety, fun and learning.
We teach at several different locations and send out directions for where to meet.
Beginner classes start on a low friction surface like carpeting or grass for safety and to build confidence right away.
We teach both inline and roller skaters.
We have loaner gear for use at our lessons.
© 2021 Skate Instruction, LLC